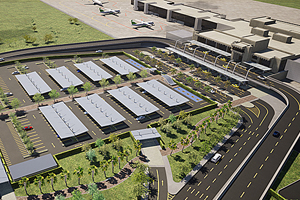 ---
Urban planning and parking lot architectural designs
Ernesto Cortissoz International Airport
Barranquilla - Colombia
Client: EPC Barranquilla - 2017
Architectural development and urban planning for the main passenger terminal parking lot and accessibility plan.
The parking lot has 400 cells and 29.000 m2 develop areas.
The main architectural client requirements was to articulate the parking lot requirements, pedestrian connections and landscaping proposal to achieve a better operational service and passenger experience. This project is an important part of a main renovation plan at this airport.