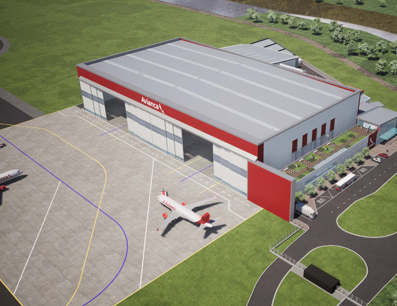 ---
Maintenance facilities ML
El Dorado international airport
Bogotá - Colombia
Client: AVIANCA S.A 2019 - 2020
SCADIA SAS develop the architectural designs and technical coordination of specialties in association with SETEC Colombia to work up IFC design (Issued For Construction) using the BIM integrated work system.
The project has 36,000 m2 including main hangar, workshops, offices, staff building and technical facilities, urbanism implementation, also an aircraft apron with 17,000 m2.
The main aircraft hangar has 152 mt long x 87 mt deep and 30 mt high, to align of 13,224 m2 covered workshop area using a three-dimensional structure system. Has five (5) maintenance bays to attend C type aircraft or two (2) bays for E type aircraft equipped with a service pits network.
This entire project was also planned to comply with LEED GOLD parameters required.