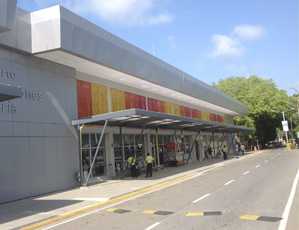 ---
Architectural designs and capacity studies for passenger terminal expansion
Los Garzones International Airport
Montería - Colombia
Client: AIRPLAN  2009 - 2014
SCADIA SAS developed the architectural designs, main planning and capacity studies for passenger terminal project for Los Garzones International Airport expansion plan required by the private operator.
The main project modernization includes 8.700 m2 for domestic dock, boarding room, main hall and commercial areas.
SCADIA SAS has designed at this airport 12.000 m2 for several projects and phases required between 2009 and 2014.
Additional facilities design project includes cargo terminal and fire fighters building with 2.500 m2 record associated to architectural and planning requirements.